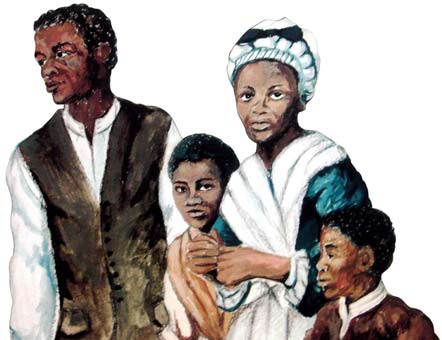 Black Loyalist Migration
The single largest group of people of African descent ever to come to Nova Scotia arrived in a two-year period at the end of the American Revolution. These were the Black Loyalists. They were Blacks in the American colonies who opted to side with the British during the United States' war for independence because the British offered protection, freedom, land and rations in return for support. Other Blacks would come to Nova Scotia in the 1780s as the property of white Loyalists. Some were slaves; others were indentured servants, though there was not much difference between the two categories.
When the war ended in 1783 New York was the last British-held port. It became the embarkation point for thousands of Loyalists, Black and White. British officials drew up a detailed list of all the Blacks who were leaving. That list, the "Book of Negroes", stated whether the person was free, a slave or an indentured servant, and what their military service had been.
Between 3000 and 3500 Black Loyalists arrived in Nova Scotia. Roughly half – 1,521men, women and children— settled at Birchtown (near Shelburne). Birchtown was an instant town, the largest settlement of free Blacks in the world outside of Africa. They received a percentage of the free land and rations as they had been promised, though their land was far from the best. That went to the white Loyalists. The other 1500 or so free Blacks who came to Nova Scotia settled elsewhere, including Annapolis, Digby, Preston, Guysborough, Tracadie and Saint John (in what became New Brunswick). They also were not given the full rations or other assistance they had been promised.
Disappointed by the failure of the British to honour all their promises, especially regarding land and equal status, many Black Loyalists began to wonder if Nova Scotia was where they wanted to be. A new destination, across the ocean in Africa, called out to many.
As well as providing an excellent cultural and educational experience for school or group tours, the centre has wonderful facilities you can rent for your next presentation or meeting.