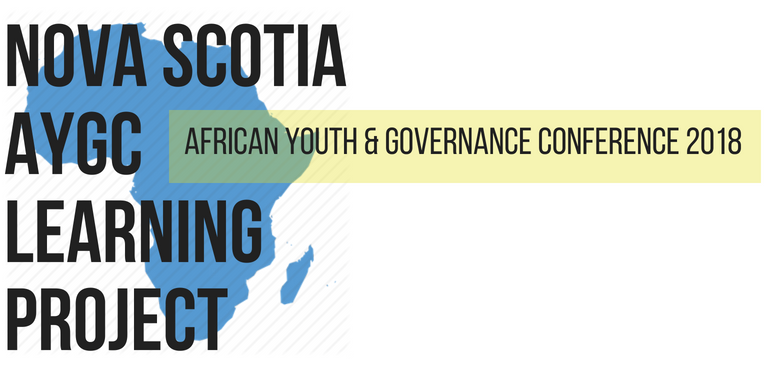 Nova Scotia AYGC Learning Project
African Youth Governance Conference 2018 – Ghana, West Africa
African Nova Scotian youth to participate in the African Youth Governance Conference 2018 taking place in Ghana, West Africa August 4-16, 2018. The annual conference is organized under the leadership of the Youth Bridge Foundation of Ghana (http://www.youthbridgefoundation.org/). The theme of this year's conference is, "Mobilizing the Youth to Build Continent Beyond Aid". The conference aim is to bring together youth from Africa and the African Diaspora (countries outside of Africa that are home to People of African Ancestry) to discuss and share common issues and to develop strategies to address the critical issues of economic transformation, development of policy recommendations in education, health and the creation of an enabling macroeconomic environment that facilitates job creation. Under the theme "Mobilizing the Youth to Build Continent Beyond Aid" youth from over 35 African Countries and Diaspora come together to do what they do best – plan and take action
The Conference emphasizes the critical need to pool resources of young people to transform the continent and the Countries they represent and strive towards Africa' aspirations 'beyond aid'. Mobilizing the youth population presents a great opportunity to create an effective platform for participation in the political economy, building the resilience of young people, and addressing the root causes of many of the key challenges facing them. This Conference provides an opportunity for Nova Scotian youth of African ancestry through to learn and apply skills to influence their destiny and to help shape resilient and reinvigorated communities. The youth delegates shall be equipped with the relevant knowledge to develop TOOL-KITS on how to mobilize young people and engage with peers and development stakeholders, including corporate citizens, to take action and pursue local, national and continental causes.
The event has grown over the years and the organizers are expecting a record number of youth participants who represent the entire African continent and a selected delegation from the African Diaspora.
Nova Scotia Contingent
Nova Scotia has been selected to attend and bring a contingent of African Nova Scotian youth and facilitators. We plan to take 10 youth connected to the historical African Nova Scotian communities (urban and rural) and 10 youth who are residents of Nova Scotia but immigrated to Canada/Nova Scotia. For a total of 20 hand selected youth who have already demonstrated leadership initiative in Nova Scotia and would greatly benefit from a cross-cultural learning exchange. Learn more about our accomplished participants on out Facebook page; https://www.facebook.com/NSAYGCLearningProject/
How To Support US
We are seeking financial assistance to help defray the cost for this historic conference. We will we provide recognition of your contribution at our fundraising events, on our conference website, during media interviews, and in the conference promotional materials at the conference in Ghana. 
Upon returning to Nova Scotia the participants will take leadership roles to fully develop the partnership and linkage possibilities they have investigated in Ghana. The participants will involve their Nova Scotia organization of choice in developing a specific project.

To support our efforts as a sponsor for the African Youth Governance Conference 2018, you can do so in various ways:
M

ake your donation by cheque (payable to Black Educators Association – AYGC).

Make a donation online through the Black Cultural Centre for Nova Scotia (Click Here)
Support one of the fundraising events listed on our Facebook Page (https://www.facebook.com/NSAYGCLearningProject/)

The Black Educators Association, and teh Black Cultural Centre are provincial not-profit organization supporting the fundraising efforts and providing financial management for all Conference related funds.


More information about the conference can be found at (http://www.aygconference.net/)
Thank you,
Nova Scotia AYGC Learning Project
2136 Gottingen St
Halifax, NS B3K 3B3
Contact: Jayde Tynes
Project Coordinator
Phone: (782) 234-2035
Email: jaydetynes0@gmail.com